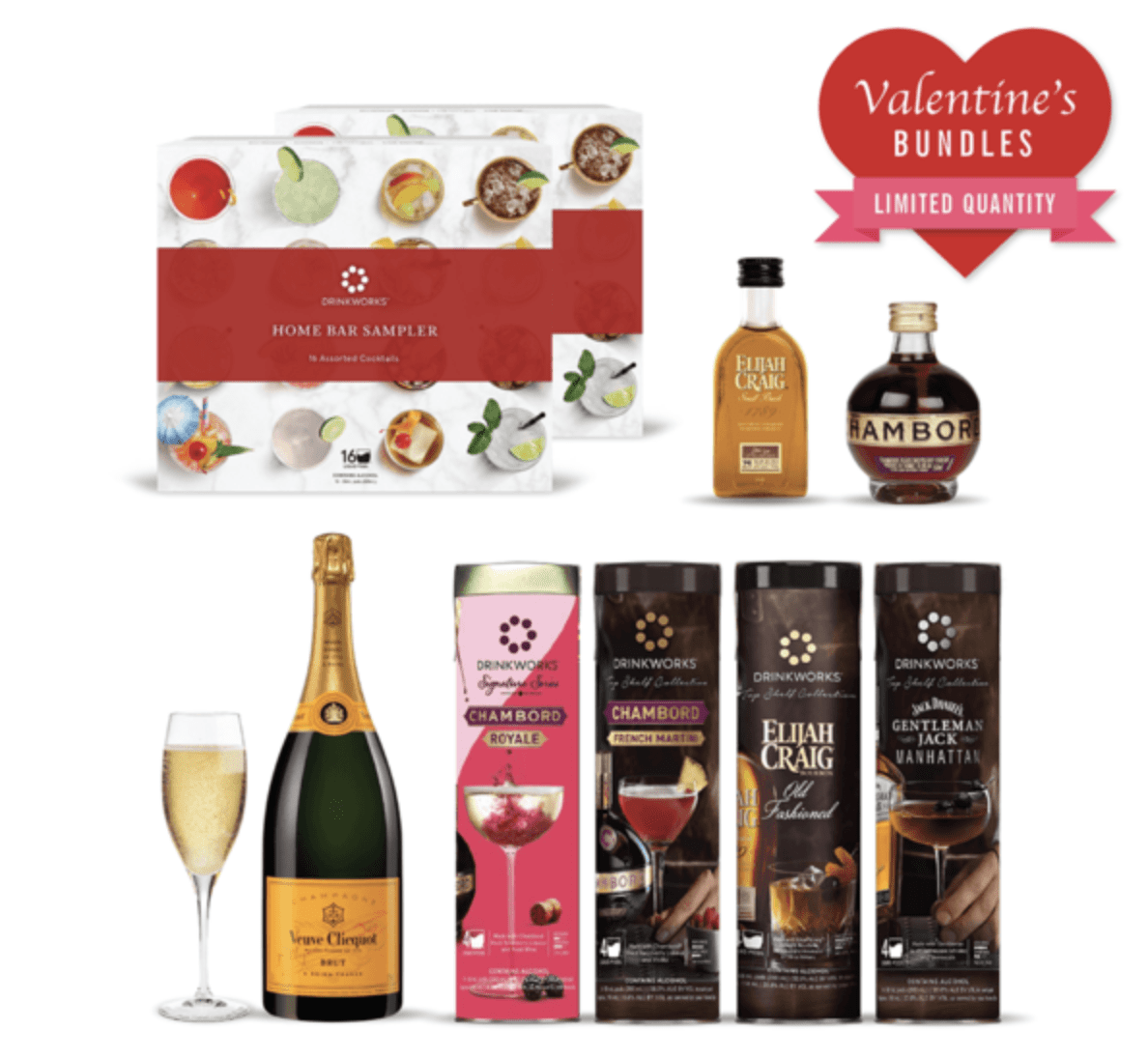 A romantic dinner requires a suave wine pairing, flirty drink choice, or passionate cocktail list to send hearts fluttering, and we at King Keg have packaged the perfect Valentine's Day specials and bundles that are sure to make a splash on your special night, and come straight to you worry free. Our specials and bundles are sized appropriately to suit your needs, whether you want a couple of expertly paired wines over dinner, or a set of cocktail mixers to last you for a long getaway weekend, or serve a tasting party. King Keg also offers product delivery to your door at the time of your choosing. We serve Hawthorne, Redondo Beach, the greater South Bay and Los Angeles areas, and have implemented COVID-19 safe-handling and contactless drop-off for everyone's health and enjoyment.
Paired Wine Specials
A bright pink Rose and a sharp dry Brut make a handsome couple, so we bundled them at a charming price for Valentines Day. Our Paired Specials are two to three bottles of hand-picked, high quality wine, selected for complimentary notes, and romance. Our Valentines pairings offer sparkling wines with a good price range, and lots of appeal.
Spirited Bundles
Choose our Valentine's Day bundles to enjoy select wine or special edition liquors alongside Drinkworks cocktail pods. Now you can make bar-quality cocktails with ease using your Keurig Drinkworks Home Bar; our bundles include an appetizing range of drinks for you to sample, with romance in mind. Classic and sultry drink choices, like the Old-Fashioned and the French Martini, are sure to capture your heart, and our bundles include special bitters and liqueurs where needed, to mix your drinks to perfection. With each bundle, you and your sweetheart receive a 16 drink sampler, a range of selected cocktails, and some special extras.
Order Today for Fast Delivery
Valentines Day fast approaches, and planning your special night or event takes time. That is why we at King Keg seek to streamline your planning experience, when you leave the drink choice, delivery and worry to us, and focus on planning a night to remember. Take a look at our Specials and Bundles page to check the stock of your selection. Enjoy same-day delivery in the greater Los Angeles area, or order ahead and have your drinks list ready to go before your event. For any inquiries, please email us, call us, or visit our location in Los Angeles California. Browse our entire collection here, order bottles or kegs for any occasion!