There's no better way to spend the summer than relaxing by the pool with a cold drink in your hand. Thankfully, King Keg has made it even easier with our alcohol home delivery service and new Drinkworks poolside cocktail bundle. Hanging out by the pool with a couple friends has never been more convenient! Check out our list for the perfect poolside cocktails to enjoy this summer while soaking up the sun.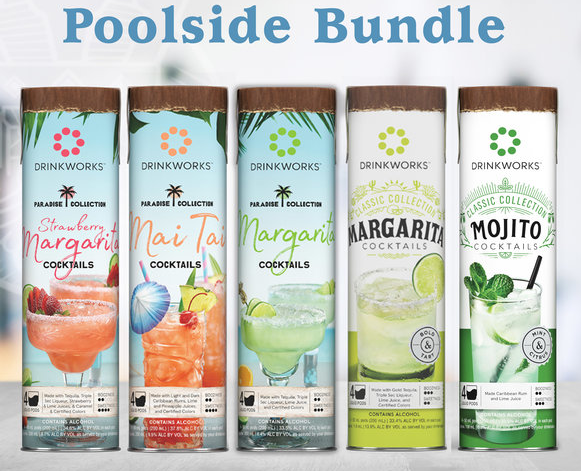 Refreshing, Easy Cocktails
With the Drinkworks drinkmaker pods, you can enjoy your very own bartender. The drinkmaker pods are designed similar to Keurig coffee and within 60 seconds you will have a perfectly mixed cocktail. Our bartenders and alcohol enthusiasts recommend drinking the following cocktails by the pool:
Classic Margarita: Nothing is better than a tangy-lime margarita by the pool. King Keg offers the classic lime margarita with top quality Tequila and also provides strawberry margaritas for those who like their margaritas a little sweeter.
Mai Tai: Packed with fruity flavors and high quality Carribean Rum, the King Keg mai tai is great to sip poolside. If you enjoy sweet drinks that don't skimp on the alcohol, a mai tai is the perfect choice for you.
Mojito: Mojitos are simple, no stress, and always good. Enjoy high quality Carribean Rum mixed with lime juice and mint for a refreshing poolside cocktail this summer.
Order Your Poolside Cocktail Bundle Today!
King Keg has brought convenience to a new level. The poolside cocktail bundle offers all of your favorite summer cocktails at one low price in easy-to-use drinkmaker pods. Contact our team for your Los Angeles alcohol delivery or get shipping directly to your door. King Keg knows you'll enjoy the taste and convenience of our poolside cocktail bundle this summer!