King Keg has been servicing the Los Angeles community for over 20 years. In that time, we've honed our skills and are proud to be able to provide our customers with great product knowledge and can even boast an excellent relationship with our vendors. We provide our services for any kind of party including birthdays, corporate events, and weddings—you even have the option of walking into our business to browse our selection or going online and having your purchased products delivered to your home! We offer everything from ice, liquor, wine, and a beverage loved by many: beer. But what's the best way to enjoy beer? Ice-cold, yes, but you can enjoy so much more from your beer than that if you choose the correct glass from which to drink it.
Conical Pint Glass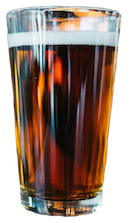 The pint is the glass that you're probably most familiar with. Bars and restaurants often stock this type of glass because it's easy to manufacture in high quantities therefore have a lower price point in comparison to other specialty glasses. It's a pretty simple glass and, one may think that, because it is so simple, "Is there a reason we don't just drink beer out of the bottle or the can?". Yes! Pouring a beer like Bear Republic Racer X into the glass will allow you to not only get a foamy head at the top of the glass, but you'll be able to enjoy the bouquet of aromas the beer you're enjoying offers. These two things cannot be achieved in a bottle or a can and pouring your beer into the pint glass will change the flavor of the beer enormously! Take the time to serve your beer, such as an Abita Wrought Iron IPA, in a frosty pint glass and taste the difference!
Goblet Glass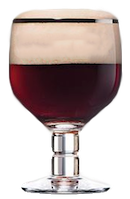 Goblet glasses come in different sizes and thickness. Their usual characteristics are a wide opening at the top, thick glass walls, and a long stem at the base. The reason this is, is because the wide opening will allow the drinker to have access to a stronger aroma! The long stem along with the thick glass walls are designed to keep the warmth from your hand from being transferred to the glass. This means that the goblet will stay cooler longer which will, in turn, help your beverage also stay chilly. Enjoy a wide variety of Chimay beers in a goblet and let your inner Viking out!
Chalice Glass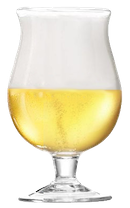 A chalice glass's body looks very similar to the goblet design save for one important detail—the curved lip at the opening of the glass. This design is purposeful and helps keep your foamy head from spilling over the rim (fun in commercials—not so fun in real life). A chalice glass would be perfect to accommodate the heads of Avery Double Digit Hazy IPA, Horny Devil Belgian Style Ale, Duvel Belgian Golden Ale, or Alesmith Grand Cru. If you've selected a chalice with straight sides (no curve), choose a beer like Stella Artois that doesn't have a large head when poured.
Pokal Glass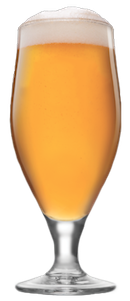 The pokal (meaning cup in the German language) glass is an elevated version of the classic pint. They in no way resemble one another, but when selecting a vessel to drink your beer from, keep in mind that the pint glass and the pokal glass are interchangeable and can be used for the same beers. The characteristic that sets the pokal glass apart from the pint glass is the wide bottom going to a smaller opening at the top of the glass. The smaller opening allows for the scents coming from the beer to be directed solely to your nose and mouth. The lip also has a slight curve that allows the beer to flow from the glass to your mouth with ease. Experience a better flavor of beer by pairing a pokal glass with a Karl Strauss beer, an Allagash beer, or a 21st Amendment Toaster Pastry.
Weizenbier Glass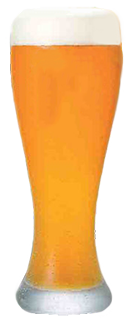 A weizenbier glass is a taller version of a pint glass. It starts off with a normal base, then thins towards the middle before expanding a bit more and then finishing off with a slightly narrower top. This glass is designed to both hold your beer's foam well and to allow your nose to enjoy the aroma of the beverage you've selected. This type of glass is designed to enjoy wheat based beers such as Blue Moon. You'll notice that at restaurants and bars, they'll pair a piece of fruit with the beer and place it on the rim of the glass; it's rare to see a Blue Moon served without a piece of orange! Be careful, however, as the level of acidity in the fruit is enough to destroy the beautiful foam created by your beer at the top of the glass. Whether or not you enjoy the tasty bite of fruit that pairs with your beverage, be sure to remove it immediately after served so that you can keep the foam for as long as possible.
Contact Your Local Los Angeles Beer Provider!
If all this talk about beer has put you in the mood for a cold one, we invite you to stop on by at King Keg and get some recommendations from our knowledgeable staff. Keep us in mind for your next party should you be in need of keg services or, better yet, a keg delivery! You can also reach us directly at (310) 536-9414.