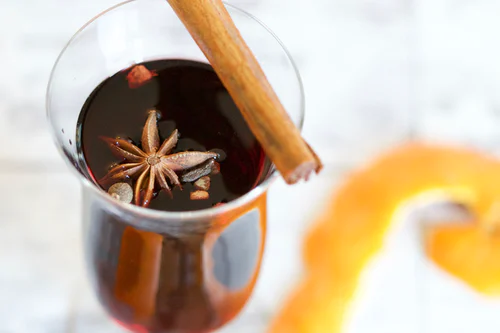 Summer has come to an end, and it's time for some new libations to warm you up! With cooler temperatures, it's time to build a fire and cozy up with a warm drink for Fall. As the leader in alcohol delivery for the past 20 years, we know a thing or two about making great drinks, so the beverage experts at King Keg share these recipes for four drinks to celebrate the arrival of Fall.
Chai Hot Toddy
Is there anything better than a hot toddy? Try it with chai! The spices in the tea, combined with the rum, make for a ginger and cinnamon flavored drink perfect for a Fall evening.
4 servings
2 cups water
4 chai tea bags (or ½ cup loose-leaf chai tea)
1½ cups milk
¼ cup honey
¼ cup sugar
6 ounces rum
½ teaspoon pure vanilla extract
Ground cinnamon as needed for finishing
Hot Buttered Rum
The quintessential Fall drink is like the adult version of hot chocolate. What could be better than rum and butter mixed together? Just add in the spices, sugar, and vanilla, and you'll be in heaven. Remember the cinnamon sticks for stirring!
4 servings
6 tablespoons unsalted butter
1 cup brown sugar
¼ cup honey
1 teaspoon ground cinnamon
½ teaspoon ground ginger
¼ teaspoon ground cloves
¼ teaspoon ground nutmeg
2 cups water
1 cup rum
¼ teaspoon pure vanilla extract
Cinnamon sticks for serving
Mulled Cider
Apple picking and apple cider truly mark the beginning of Fall. After a visit to the cider mill or market, all you have to do is simmer the apple cider, add in the spices and rum, and you have Fall in a mug. Oh, and your house will smell incredible too!
4 servings
4 cups apple cider
4 strips orange zest (about 1 inch long)
2 strips lemon zest (about 1 inch long)
2 cinnamon sticks
2 cloves
1 star anise
4 shots rum
Mulled Wine Sangria
Sangria is not just for summer. Heat your favorite red wine, along with some brandy and spices, and it will turn into your new favorite Fall beverage.
4 servings
1 bottle red wine
½ cup orange juice
¼ cup honey
2 oranges, sliced
2 cinnamon sticks
4 cloves
½ cup brandy
Order Your Fixings for Fireside Cocktails Today!
We are called King Keg for a reason because we are the king of alcohol and wine delivery in Los Angeles. It's as simple as placing your order, and it will be shipped directly to your door. If you have any questions, call us at (310) 536-9414. Our knowledgeable and friendly staff will be happy to help you. Cheers to Fall!